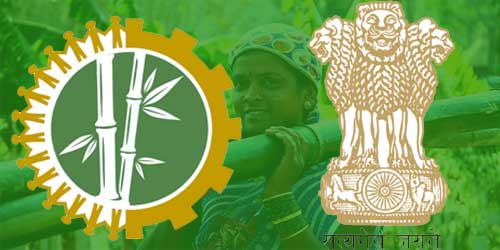 Considering the importance of bamboo, the Government of India initiated National Bamboo Mission (NBM) as early as 2006-2007, under the Ministry of Agriculture and Farmers Welfare with an initial budgetary allocation of 500 crores+ which was expanded further in the 10th plan. The 1st phase ended in 2015-2016. The restructured National Bamboo Mission (NBM) was launched in 2018-19 to include market, value addition, product development, skill, and R& D components and is being implemented under the 'National Mission for Sustainable Agriculture (NMSA).
The Mission envisages promoting holistic growth of the bamboo sector by adopting an area-based, regionally differentiated strategy and to increase the area under bamboo cultivation and marketing. Under the Mission, steps have been taken to increase the availability of quality planting material by supporting the setting up of new nurseries and strengthening existing ones. To address forward integration, the Mission is taking steps to strengthen the marketing of bamboo products, especially those of handicraft items.
The Indian Forest Act 1927 was also amended to exempt bamboo grown outside the forest from the definition of a tree. With the consultation with industry and states, 10 priority species were identified to be promoted for cultivation by farmers to make the country self-sufficient in the supply of raw materials to our industry. Guidelines for accreditation of bamboo nurseries and certification of planting material have been released by NBM and States are in the process of accrediting all nurseries – Government and Private. Since the launch of restructured NBM until 30.11.2021, Rs.324.08 Cr was released to the States including BTSGs.
The activities under NBM are approved as per the Annual Action Plans received from the State Governments. The operational guidelines of NBM provide inter alia assistance for treatment, the establishment of markets, incubation centres, value-added product development and processing, development of tools & equipments, and research & development, both in the Government and Private Sector which would include start-ups also. The revised operational guidelines of the National Bamboo Mission can be downloaded-NBM_Guidelines_New.pdf.
---
For more information about National Bamboo Mission, Visit the web portal https://nbm.nic.in/