Lightweight bamboo electric vehicles by Engineering Students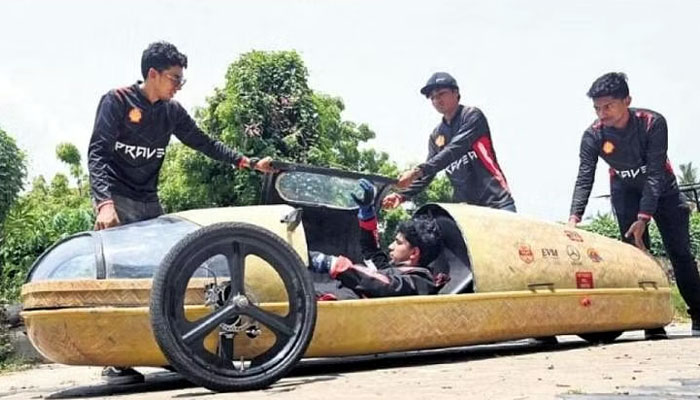 A group of engineering students from Government Engineering College, Barton Hill, Thiruvananthapuram, Kerala has developed an electric vehicle prototype. The team, named Pravega, comprises 26 mechanical engineering students from all four years of study. The vehicle is constructed using biodegradable bamboo composites and is powered by electricity.
The vehicle is a tear-drop-shaped three-wheeler weighing 100 kilograms. The team aimed to reduce the vehicle's carbon footprint while emphasizing organic and eco-friendly features. The staff advisor, Gopakumar S, mentioned the use of cutting-edge technology for fuel efficiency, speed control, and safety. He, along with other final-year students - B Pranav, Prahlad Vivek, Sooraj S and R B Yadukrishnan, will represent the team at the hyper fuel-efficiency competition. The team plans to take it to Indonesia to participate in the Shell Eco-Marathon Asia Pacific and Middle East, starting on July 4.
The development of the vehicle received financial support through sponsorships from the Motor Vehicle Department of Kerala's E-Mobility promotion scheme.
Source: Indian Express
Published on: Saturday, June 3, 2023